Choose the fire pit to add light to summer nights
May 10,2023 | CASAINC
As the summer approaches, a fire pit becomes more and more appealing. Sitting outside and roasting a fire late at night in the summer is a little bit of heaven. Having a nice fire pit in your outdoor space means you can sit around the warm glow with friends and family, roasting marshmallows and hot dogs while watching the night sky. If this sounds romantic, that's because it is.
If you're shopping for your first fire pit, our list includes a variety of styles and sizes, and you can find the ideal fire pit for your yard that can stay cozy through multiple seasons.
1. Fire Pit Table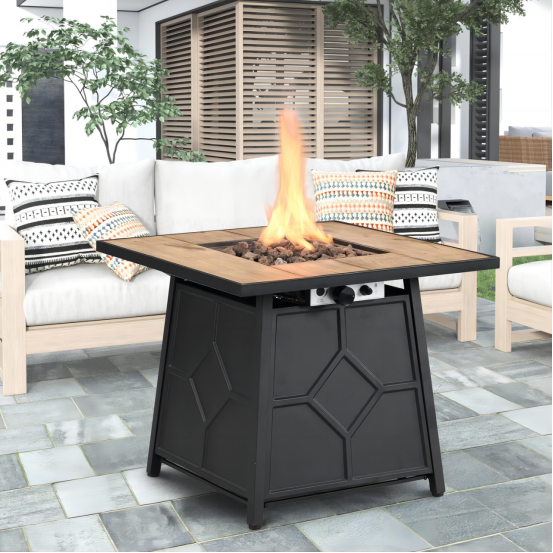 This fire pit table >>uses propane as fuel to provide a stable and clean burn. So no fumes bother you or pollute the environment (propane gas is not included). The texture of the table top echoes the frame in a unique and harmonious way. Also, the enclosed table body perfectly hides propane gas without compromising aesthetics. The perfect addition to your backyard oasis. The sturdy metal frame with a tiled table top and ignition device combined with a rust-proof stainless steel basin bottom will provide you with a quality use experience.
2. Tree outdoor gas fire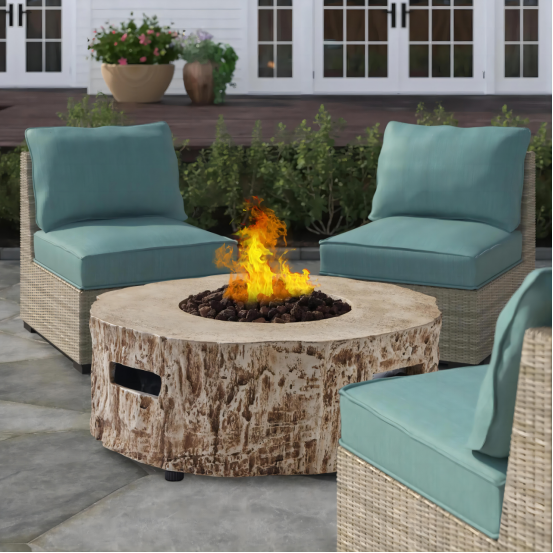 With CSA certification, an outdoor fire Tree is designed for outdoor use. A gas fireplace or outdoor fireplace is the perfect alternative to a wood fireplace. No smoke or sparks, no dragging with firewood! This outdoor fire is practically maintenance-free and delivered with a protective cover. The burners of our outdoor fireplaces are of high quality and made of stainless steel. The burners have electrical ignition with battery and meet the highest safety requirements, should rain suddenly occur during use, the burner will automatically switch off.
3. Gas Fire Pit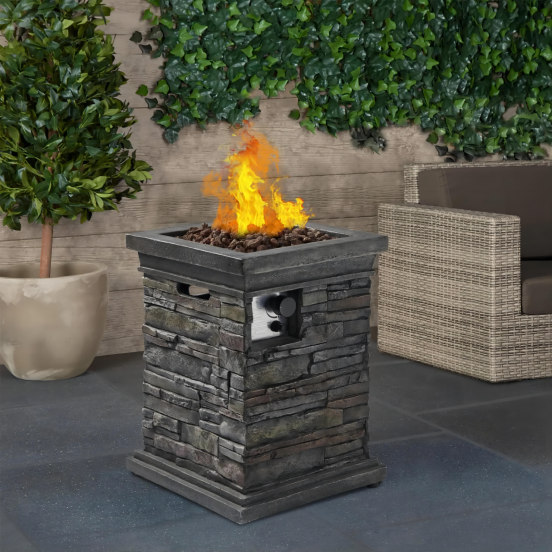 This gas fire pit is made of environmentally friendly composite materials that burn efficiently with little smoke and no half-burnt logs to deal with. Sturdy and lightweight. Skillfully crafted and easy to maintain. Also has an outdoor decorative role, capable of creating a dance of flames produced by lava rocks.
Fire pit safety tips
Make sure that the location is safe and that there's nothing hanging nearby that could catch fire.

Position your outdoor fire pit in the middle of your patio, so you have plenty of room to move around it safely and it's not too close to combustible surfaces, grass, trees, plants, or shrubs.

Make sure that it isn't too close to your property or sheds/summer houses.

Don't light the fire pit under a gazebo or other covered area.

Check the wind direction before lighting.

Take fire safety precautions. For example, have a fire extinguisher, fire blanket, or at least a bucket of water/sand nearby.

Keep children and animals away if they are unsupervised.

When you have finished with the fire pit, ensure that the fire is completely extinguished. Cover the fire pit with a suitable lid to contain any hot embers and prevent ash from blowing around.

If you have chosen a fire pit that doesn't have legs or which gets very hot, you may need to protect the surface underneath.
Comment