CREATE YOUR FAVORITE OUTDOOR SPACE
Mar 30,2022 | CASAINC
On a sunny day, it is suitable to enjoy the sunshine in your own small garden with your family leaning against the deck chairs. Outdoor furniture is definitely a good helper to create an outdoor space. How to use outdoor furniture to create your favorite outdoor space?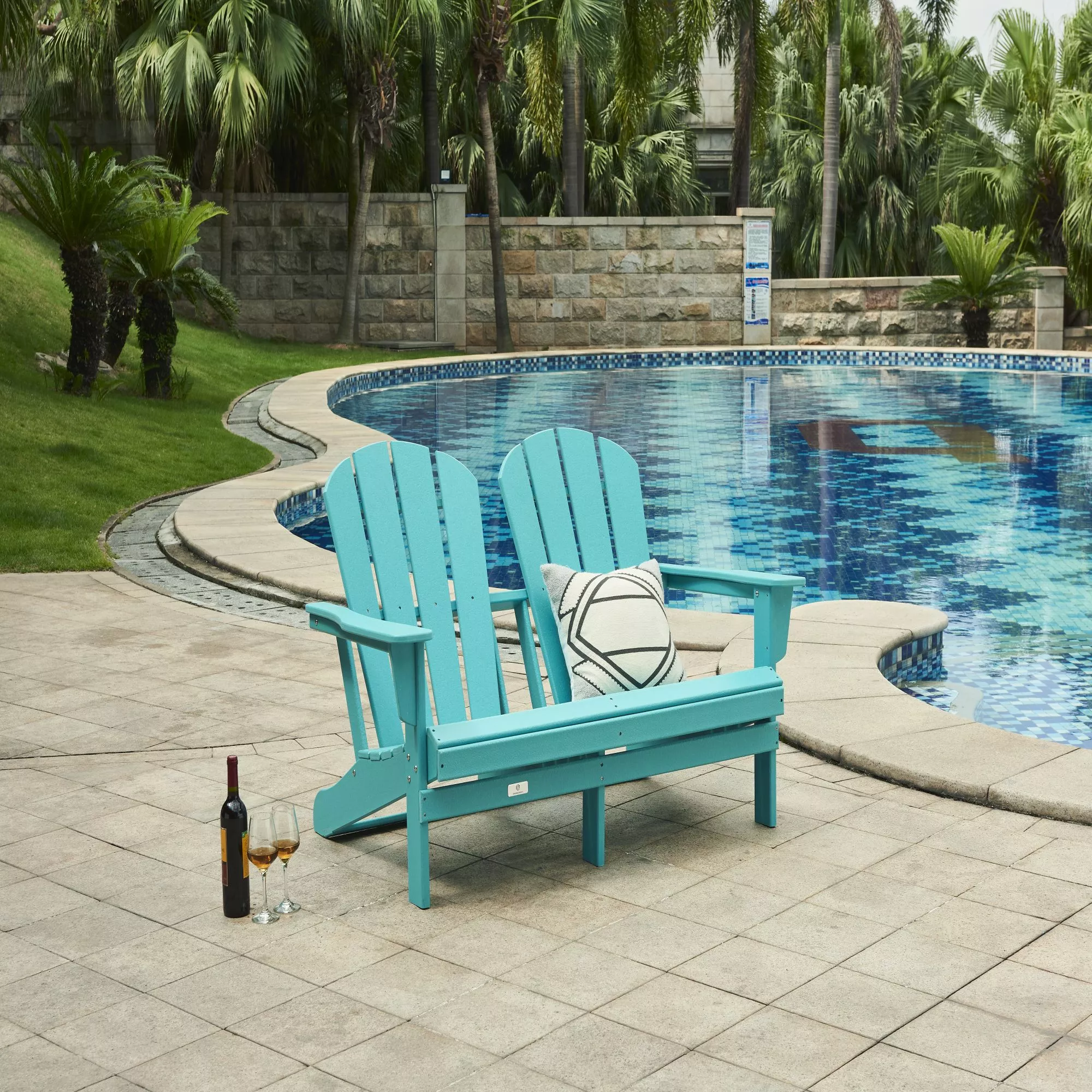 If you only have a balcony at home, you may wish to buy a wooden or rattan outdoor leisure low table with the same color or diametrically opposed to the indoor furniture, with two square stools, and decorated with a few pots of greenery next to it, which not only makes the narrow space of the balcony look spacious, but also deliberately creates a small courtyard view.
As for the open-air terrace, the decoration should be more careful. First of all, you should design the purpose of this platform. If the platform is just a venue for you to relax and enjoy the outdoor scenery, a lounge chair and a small tea table will be enough. But if it is a venue for family and friends to get together, and the area is large enough, you can put a round dining table with four chairs, or buy a set of outdoor sofas. Then put up a sunshade on top, the platform can be dotted around some greenery, or put a simple barbecue grill and a long table, so you can have a barbecue party here.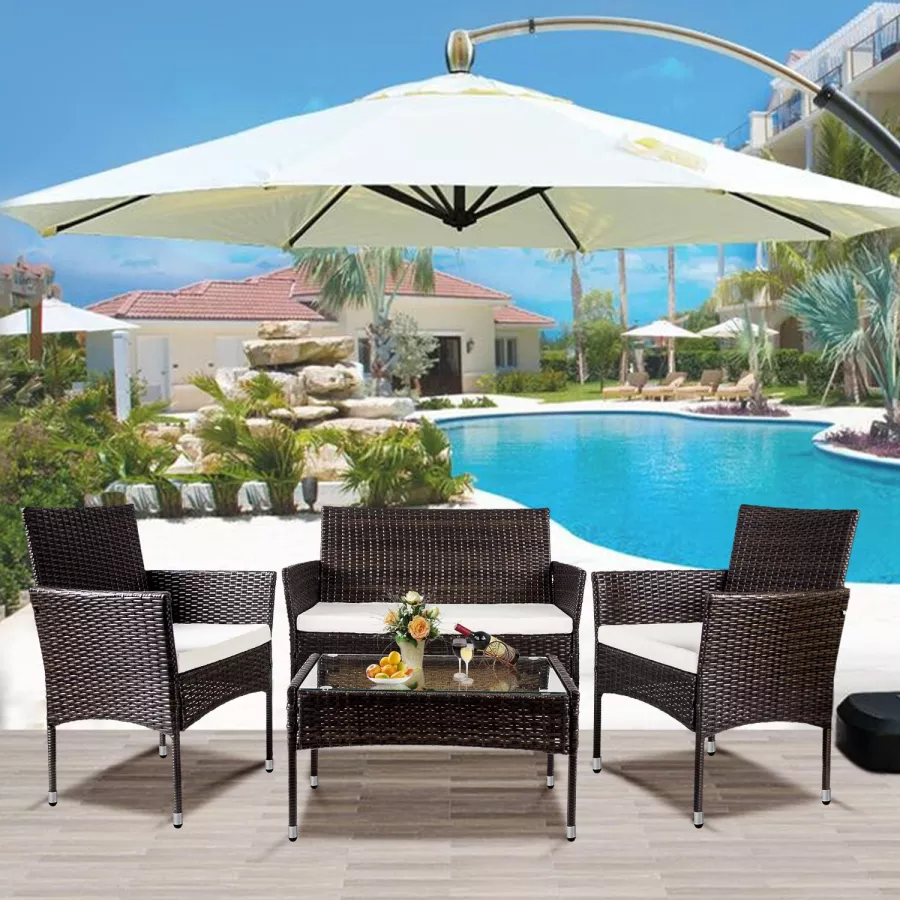 The design of outdoor furniture is quite careful about material selection and matching. Different designs will present different styles. For example, vintage iron brackets holding up solid wood spelling strips. This matching will make people feel coordinated and natural with a bit of nostalgic country style no matter what kind of outdoor furniture is used. In rattan outdoor furniture, there is natural and comfortable rattan material with colorful cushions, fabric embellishments make rattan furniture immediately vibrant and dynamic. You can choose the right outdoor furniture according to the style you like.
Of course, what style of outdoor furniture to choose, but also to consider the interior style. Iron, aluminum, and faux rattan outdoor furniture are suitable for a more modern decorating style. If you want a Chinese style of decoration, outdoor furniture can choose wooden, faux rattan. In general, iron and floral design outdoor furniture and classical style interior design coordinated. While wooden outdoor furniture and modern, minimalist style interior is a better match. For the rustic style, wooden outdoor furniture with a natural texture is more than suitable.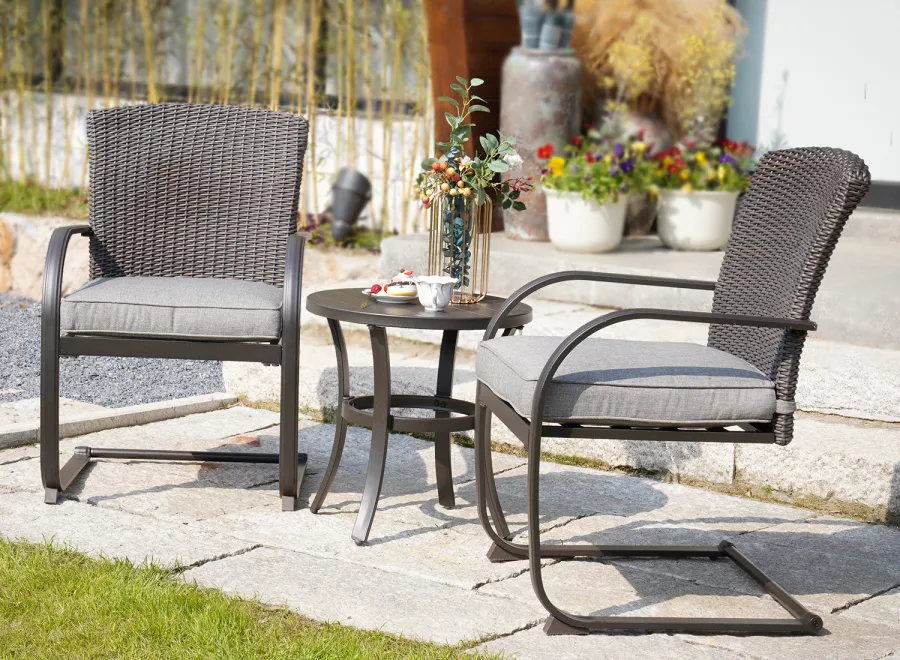 Currently, there are four main materials used in outdoor furniture products, including rattan, wood, aluminum and iron.

Rattan furniture is ideal for summer use, with stylish shapes and rich colors that blend well with the patio to create a bright and vibrant atmosphere.
Tip: Rattan furniture material is less durable and prone to brittle cracking. You can make full use of its lightweight advantage, and try to put it away when not in use, which can greatly extend its service life.

Iron is the most sturdy and is the most common and first outdoor furniture to appear. The surface is treated with electroplating or oxidation, and the material itself has stronger mechanical properties and is not easily worn.
Tip: Iron has the disadvantage of being prone to rusting. Selection needs to pay attention to the rust treatment must be in place, and iron furniture surface protection of the oxide layer is very easy to wear, used to try to avoid bumping.

Aluminum is a more lightweight, versatile style, can be combined with glass, faux rattan, wood, etc., in addition to the balcony or terrace at home, you can also travel with you. It is currently the most popular outdoor furniture material.
Tip: Aluminum material is lighter, lack of heft, mainly for use on excursions.

Wooden has the feeling of winter warmth and summer cool, very comfortable. Generally based on teak, this species due to the strong density, not easy to deformation, its own fragrance can prevent insects.
Tip: When buying wooden outdoor furniture, pay attention to whether it has done anti-corrosion treatment, and whether the surface has been coated with transparent paint, paint treatment can enhance moisture resistance.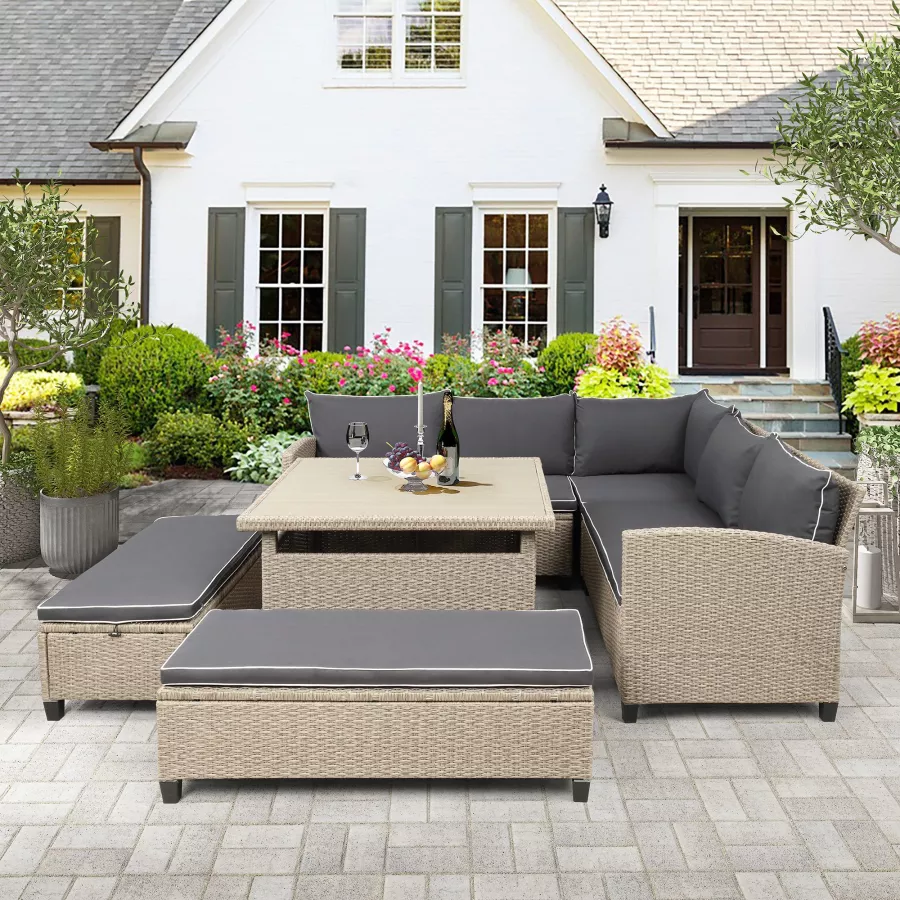 Comment