How to choose a right Bathtub ?
Feb 13,2023 | CASAINC
Do you confuse about which Bathtubs you choose better?
How many materials are the bathtub has?
What's the difference between them?
Have you ever had this confusion? Nowadays, choosing a bathtub in the living room is the mainstream. When we work for a long time, taking a bath in the bathtub is a good way to relax. But how should we choose the right products? There are several tips will be given!
First: Materials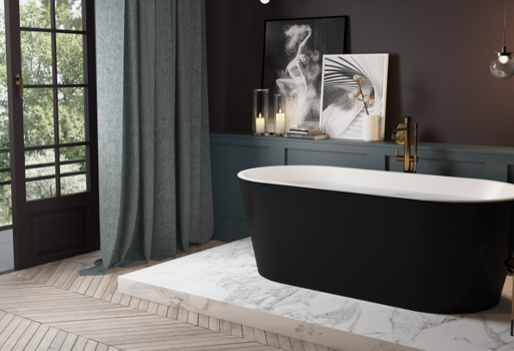 Advantages:
Cost-effective: If you have a low budget, an Acrylic bathtub may be a good choice. it can satisfy most of your requirements.
Lighter than other materials: if u want to change the styles or u don't want it later, it is convenient to carry it out.
Rich modeling and styles. As the materials are softer, they can produce many modeling and color for a customer to choose from.
Disadvantages:
Poor abrasion resistance: long-term use of the surface is prone to dense scratches, and even after long-term use will be easy to yellowing discoloration
Not resistant to high temperature: Generally speaking, acrylic bathtubs can withstand a temperature of 70 degrees Celsius, the better acrylic material can withstand up to 100 degrees Celsius. if in a long time experiment, the bathtub easily deforms.
Advantage:
As we can see resin bathtub has a super value. we have more fashion styles to choose from.
Disadvantages:
Not resistant to high temperature: Low-temperature brittleness and high temperature soften easily.
Not easy to refurbish: If there are scratches on the surface but also ask the professional master to polish the renovation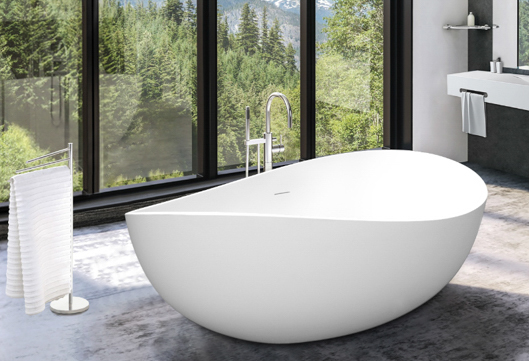 Advantages:
Cast and polished by resin, quartz stone and aluminum stone powder, and other materials, which is polymer solid material that no need to worry about discoloration, color flow, and other problems.
Easy to clean: it's a bright surface with a hard agent protection layer making it easy to clean and take care of, just wipe with a rag and water, no need to wax, or any scratches just use sandpaper, or the water wipe can be bright as new.
Insulation performance is very good and can support a variety of color customization such as black, pink, red
wear-resistant, anti-mold,anti-bacterial
Disadvantage:
Difficult to move on home: An ordinary solid bathtub of at least weighs 300 pounds. if u want to change to another bathtub or you don't want it. it's hard for u to move it.
Secondly: Types
The bathtub is mainly divided into embedded and freestanding two kinds. embedded bathtub and freestanding bathtub.
Embedded bathtub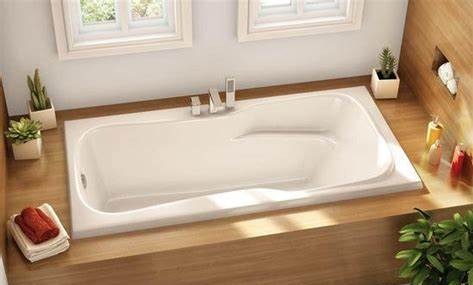 Advantages:
Generally speaking, Embedded bathtubs are usually leaned against the wall, or placed in places that do not obstruct people, family-style bathrooms basically choose it,
Easier to clean: this product also includes a shower head, which is very convenient for a clan interior.
Disadvantage:
Embedded bathtubs also require consideration of the cost of tile, glass shower doors, and designers, which can add to the overall cost of a built-in tub. While a freestanding tub may be more expensive initially, it is considerably less expensive to install because it does not require these other additional aforementioned costs.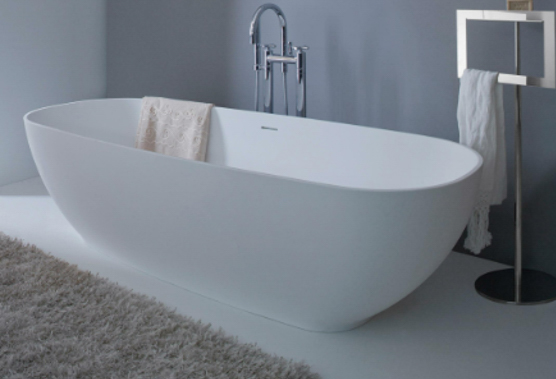 Advantages:
Compared with the e

mbedded bathtub, the f

reestanding bathtub is easy to move wherever you want.
It's convenient to overhaul if it broke. Because of its material soft features make him a strong sense of shape, the freestanding bathtub in addition to the conventional rectangular oval, there are shaped, for example, boat-shaped, which can create a strong space art atmosphere.
Disadvantages:
Not easy to clean:

f

reestanding bathtub has hygiene dead ends, it may not easy to clean it that may create many bacterias。
Waste of space:As we can see,

f

reestanding bathtubs have many styles, such as Round shape, Oval shape. so it may take up a lot of space. If your bathroom isn't too large. It may not suitable for you.
Notices:
1. Before you buy a bathtub, measure the size of the size to ensure that the length, width, and height of at least one is narrower than the door.
2. It is best to go before the plumbing to confirm the style, the water level is reserved for different locations
The round bathtub is larger and he needs more space to fit.
The introduction to the bathtub is here, I hope this blog is helpful to you!
Comment