BEST SINK FAUCETS AND SHOWER FAUCETS
Jan 23,2022 | CASAINC
If you are ready to upgrade your bathroom, finding the right faucets to match your fixtures can seem like a daunting task. The two main factors to consider when adding a tub or shower faucet are the configuration of your previous faucet and your personal style. This guide will show you how to pick the best bathtub and shower faucets for your bathroom.
Sink Faucet Types
There are four main sink faucet installation options: freestanding, wall mount, tub deck mount or tub mount.
Freestanding: Used with tubs without pre-drilled holes. The pipes come up out of the floor and are exposed and secured to the tub or wall for support.
Wall mount: Installed through pre-drilled holes on the bathroom wall over tubs. The pipes are concealed and the spouts and handles are exposed.
deck mount: Installed through pre-drilled holes in the tub rim (called the deck) or may be installed on the surrounding tile surface on a drop-in tub. The pipes are concealed and the spouts and handles are exposed.
Wall mount: Installed through the tub wall. Pipes are concealed and the spouts and handles are exposed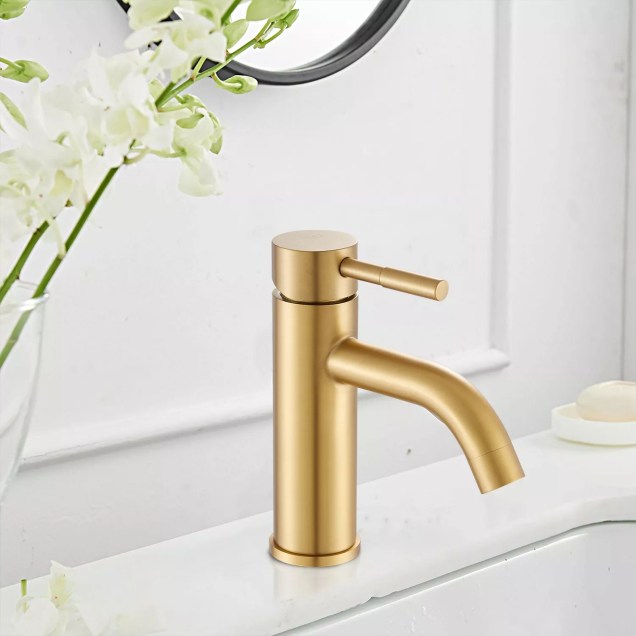 Additional Tub Faucet Considerations
Tub faucets are available in multiple configurations for a one handle tub, two handle tub or three handle tub.
Some faucets feature a handle as a diverter instead of a diverter located on the tub spout.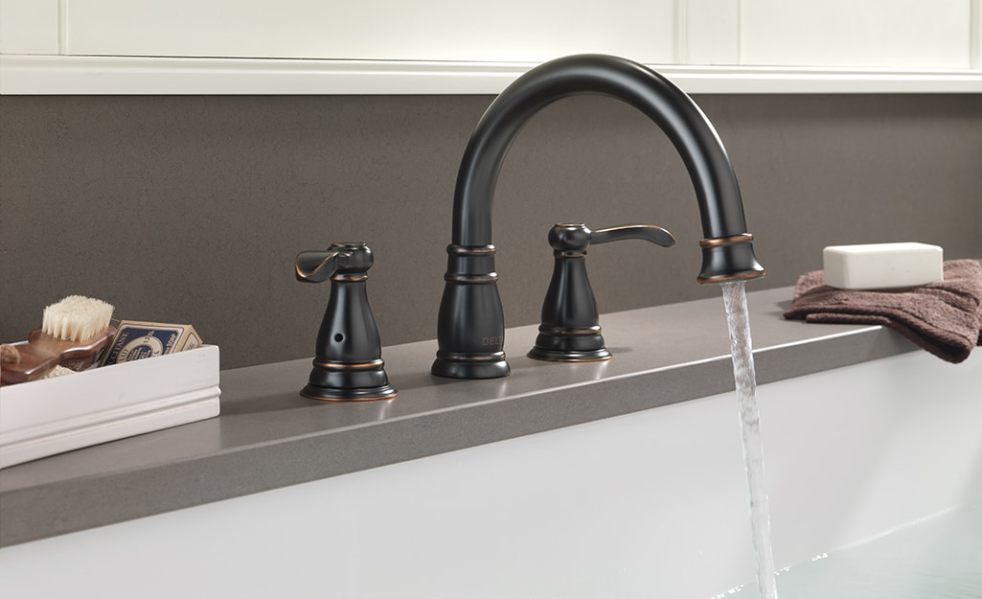 Shower Faucet Types
Shower faucets come in a solo shower head or a combination option that offers both shower and bathtub faucets.
Bathtub and shower faucet combos: Features an all-in-one configuration that takes the guesswork out of separately choosing and installing each component.
Solo shower faucets: Features a showerhead and handle only without tub handles. Available in various styles and finishes to complement standalone showers.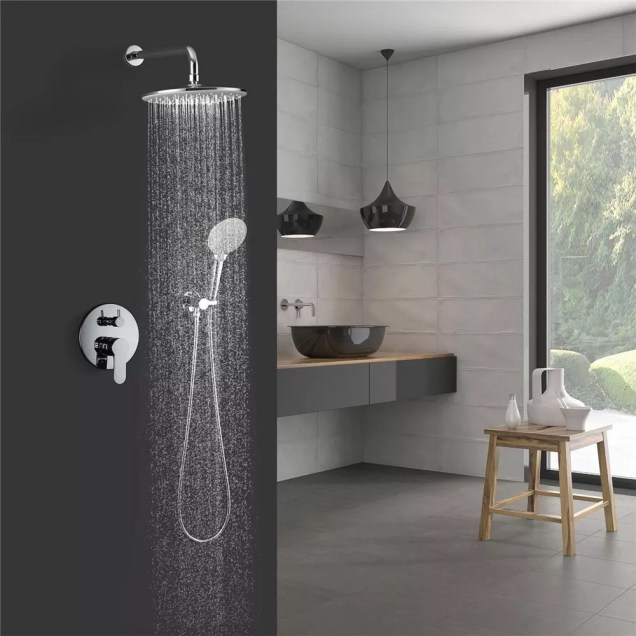 Additional Shower Faucet Considerations
Shower faucets are usually wall-mounted but can be tub-mounted in tub/shower combos.
Shower faucets are also available in multiple configurations for a one-handle shower or two-handle shower with a third handle that serves as diverter for the shower.
Tub and shower faucets can be replaced with a shower-only faucet by covering the unused hole with a spout hole cover. This works best in situations where the spout emerges from the tile wall.
Some single-handle models offer more precise control of volume and temperature of water.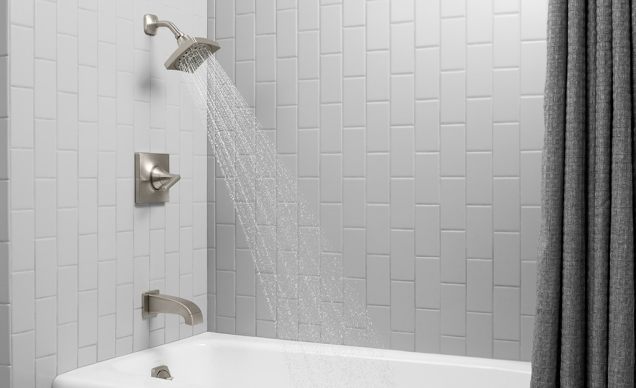 Material and Finish
Chrome: Polished, brushed or matte finish. Durable, economical and easy to clean. Resists oxidation but does show water marks.
Nickel: Brushed or satin look. Durable and easy to clean. Units with titanium finish better resist scratching and tarnish.
Mixed colors and metallic tones: Can be easily matched to existing color scheme.
Brass: May have a high gloss, satin or antique finish. Resists damage and wear.
Bronze: Complements neutral color palettes. May have a polished, brushed or darker oil-rubbed look with highlights. Resists scratches, tarnishing and corrosion.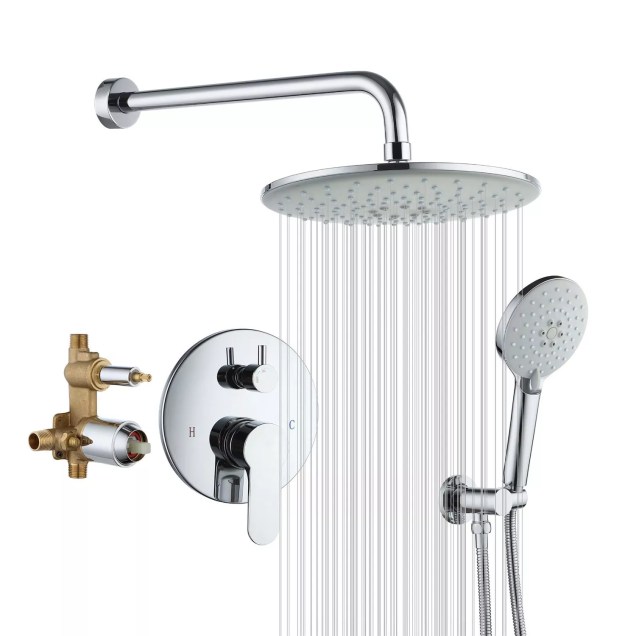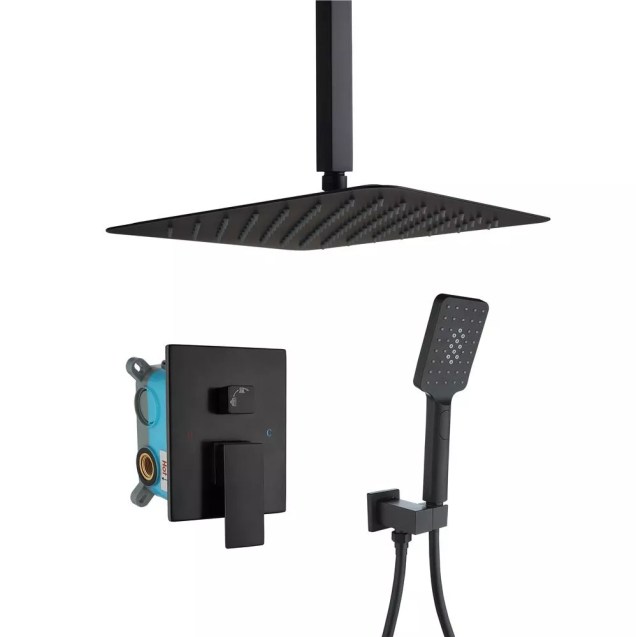 Accessories
Diverters: Shifts the flow of water from the spout to the showerhead. Commonly located on the spout and pulled upward when water is flowing to activate the showerhead.
Handheld showers: Makes rinsing off and tub cleaning easier. May require an additional hole in the tub for installation.
Anti-scald valves: Protects from sudden bursts of scalding hot or freezing cold water when a toilet is flushed or the dishwasher starts.
Pressure-balancing valves: Maintains preset water temperature when hot or cold water pressure suddenly drops.
Thermostatic valves: Monitors temperature and adjusts the flow of hot and cold water to maintain a preset temperature.
CASAINC Shower head Advantage
Pressure Balanced Valve with CUPC Certification: The pressure balanced valve protects you from any hurts of sudden water temperature change. The additional shut-off stop would help you adjust water flow and convenient maintenance.
High water pressure air-in technology offers high water pressure even at low water pressure supply, anti-scald valve protects from rapid changes in hot or cold water pressure
3 functions shower is in right now because this gives you the convenience of having 1 rotating shower head, 1 handheld which you can use for focusing on certain parts of your body and 1 tub spout which fulfills the bathtub in a few minutes, gone are the days when you only can choose one, this is the shower system that has 3 functions for your convenience
What is CUPC?*
The Uniform Plumbing Code™ (UPC™) and Canadian Uniform Plumbing Code™ (cUPC™) are the designated American and Canadian national standards, respectively. They design these codes to provide consumers with safe and sanitary plumbing systems. Commercial construction projects, as well as many residential construction projects, normally require specified products to be certified.
Native Trails sinks and bathtubs are UPC/cUPC certified, facilitating their use in all types of projects
.
Comment