This artificial wreath meets most of the needs of interior holiday decoration. As long as you decorate it on the wall, window, or door, the charming purple LED lighting with timing function will make your family full of a scary atmosphere to your house or party, super easy to scare your neighbors and kids.Plus,the new odorless PVC material wreath is sure to be reused year after year.
Features:
Et into the Spirit of Halloween: With the lifelike looking of this 24-inch artificial wreath from far or near, 179 black branch tips with scary purple lights feel and look a bit spooky yet mysterious.
Premium PVC Material: The brand new PVC material accurately meets the safety needs that has no peculiar smell, no pollution, and is non-flammable. You can put it on the front door, along a mantelpiece, or hang it on the railing of the stairs without any worries, adding a strong festive atmosphere to your family.
Pre-strung LED Lights and Timer: Different from other ordinary warm light wreaths, we choose charming purple lights. The light is produced by 35 high-quality LED lamp heads, and each of them has super durability. As long as you turn on the timing switch, the light will automatically enter the cyclic of 6 hours of work and 18 hours of rest a day.
Battery-Powered Design: Get rid of the limitation of the traditional power cord, the artificial wreath requires 3AA batteries (not included) to supply power, which further expands the application range of the wreath while improving safety. The upgraded waterproof function will also better adapt to more external changes for indoor and outdoor use.
Excellent Holiday Choice in Any Space: The simple and popular design style can not only improve the holiday vibe of homes, schools, and offices, but it is also a perfect choice to celebrate major festivals such as Christmas and Halloween.
Product Specifications:

Color: Black
Material: New PVC
Diameter: 24''
Net weight: 2lbs
Number of branches: 179
Number of lights: 35
Battery powered: 3 XAA (not included)
Package included:
1 x Pre-lit Halloween wreath
Dimensions: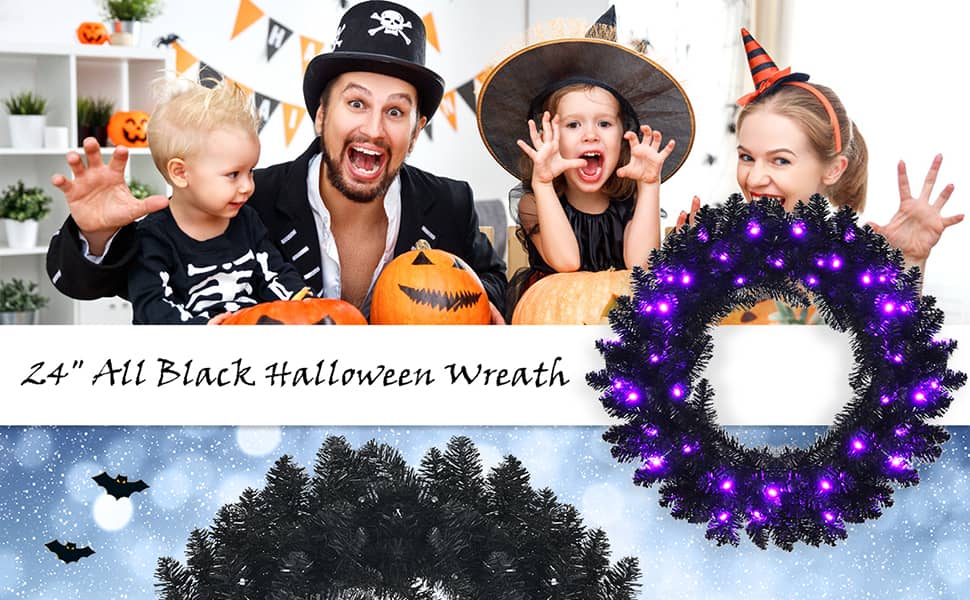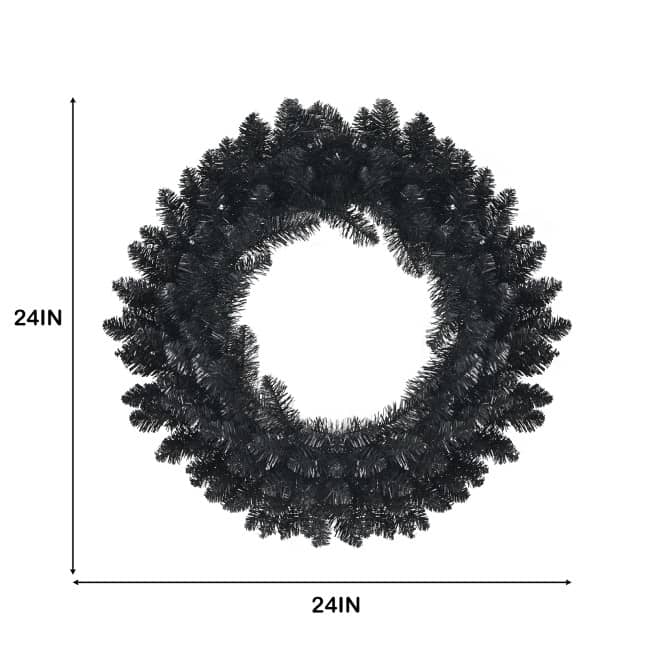 Tips: No power plug design and waterproof battery box ensure simple and safe operation.