Combine with beauty and practicality, this 40-inch electric fireplace is not only a heater but also a great home decor. And there are two install ways, wall mounted or insert, and both are space-saving and simple to install. In addition, this electric fireplace has a heat output of 750 W/1500 W and can adjust the temperature of 62-82°F. More, this electric fireplace heater simulates real flame with 9 flamer colors to create a cozy atmosphere as well traditional fireplace. While with five flame brightness settings ranging from dim glow to full glow, allowing you to adjust the flame to the brightness you want. Also, allow Touch screen and remote control for easier use. More importantly, CETL certification and overheat protection ensure safety. This elegant black glass fireplace with timer adds a modern touch and an ideal touch to your home.
If you are looking for a wall mount fireplace, don't hesitate to buy it!
Features
Wall-Mounted Design: This electric fireplace is specially designed for wall mounting in recessed form. Not only can it be embedded in the wall, but it can also even be mounted on the wall, which can save your room.
Multi-Operating Modes: The heater has 5 modes of flame intensity and 12 levels of flame brightness that can be selected according to your needs. 1 hour to 8 hours of timer control and sleep mode would create a comfortable environment.
2 Heat Settings and Energy Savings: 750W and 1500W for different rooms and weather conditions, which can be adjusted for both warm and energy-saving purposes. This fireplace also features energy-saving LED technology. The supplementary zone heating is up to 400 square feet.
Humanized Design: The fireplace can be controlled not only by touch screen control but also by remote control, which is very easy for you to control. Comes with an adjustable thermostat, the temperature can be adjusted from 62°F to 82° F.
Protect your Safety: No coal, ethanol, propane, or gel cans are needed without real flames. This heater also has auto-heat kill protection to prevent overheating. Infrared heat is useful for retaining natural humidity so that the room is not dry.
Note :please be sure to refer to the framing Hole Size image for installation.
DIMENSION & WEIGHT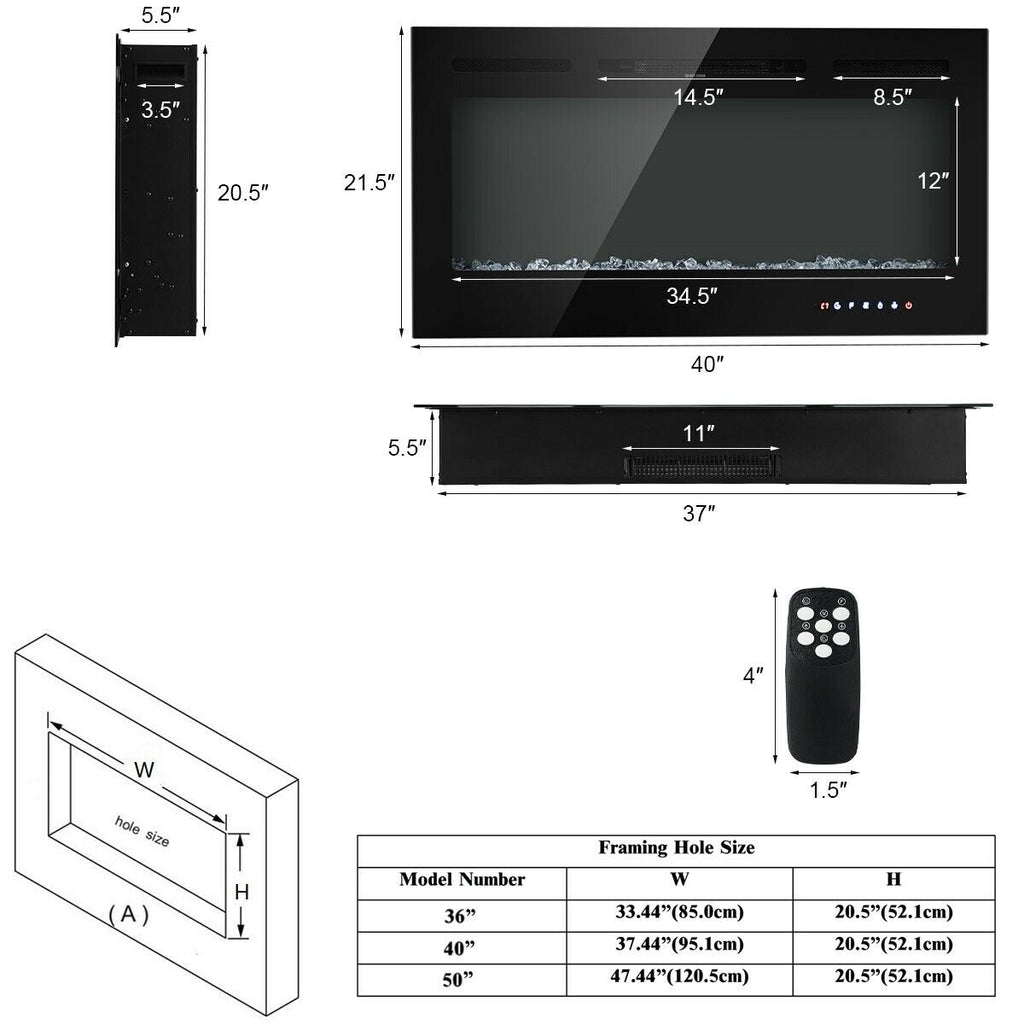 Overall dimension: 40" x 5.5" x 21.5" (W x D x H)
Item weight: 44 lbs
Specifications
Color: Black
Material: Tempered glass & Sheet metal
Power: 750W/1500W
Voltage: 120V/60Hz
Heat setting: 62 - 82F
Timer: 1 - 8 hour
Certification: CETL
Power cable: 6 Ft
Flame colors: 9 multi-color modes
Flame brightness: 5 mode
Package including:
1 x Electric fireplace
1 x Remote control
1 x Crystals
1 x Metal bracket
1 x Screw kit
1 x Manual
WARRANTY / CERTIFICATIONS
Manufacturer Warranty: 3-Month