Description
This patio heater is perfect for a dinner party, family gathering, garden, backyard, restaurant, coffee shop, school, or any other event outdoors. It allows for keeping backyard gathering well on cold days, as it gives off the perfect amount of heat to keep your patio toasty warm.
Feature
[Built-in Propane Tank Design] Built-in tank chamber makes it easier to put a 20lbs propane tank (not included).
[Easy To Move Design] The heater is equipped with wheels, which make it easy to move around
[Auto Shut-Off System] The heater has a safety auto shut-off system, it will automatically shut down if the unit is tilted or tipped.
[Large thermal radiation range] Heat range up to 25 feet in diameter. Emits 46,000 BTU of steady warmth.
[Black Cover Included] Waterproof fabric cover will protect your patio heater from water, rain, snow, and dirt.
Specification
Fragile

United States

Propane

Standing

>10'

Safety Shutoff

Material & Color: Hammered Bronze powder coated Iron
Heat output: max. 11-13.5 kW (450-870g/h)
Base: Dia: 17.72 x 3.54"(H)
Supporting Bar: 0.79 x 0.79x 27.17"(H)
Pole:Dia: 2.56 x 31.5"
Flame Screen: Dia: 11.02 x 9.06"(H)
Reflector:Dia: 32.68 x 3.39"(D) in Aluminum
Total Height: 85.83"(H)
Consumption: 450g/h --- 870g/h
46000BTU
Fuel: Propane; butane or LPG
Certificate: ETL
More Highlights:
1.[Durable Material]
This patio heater is made of high-quality Hammered Bronze powder-coated iron, which can prevent the heater from being eroded, or rusting, achieving the best durability.
2.[Fuel Source]
Propane is recommended, but but butane or LPG are ok too.
3.[ETL Certidication]
Our heater is ETL certified, you can see the ETL label on the cylinder house.

4.[Easy to Assemble]
The patio heater comes with a detailed owner's manual, following the owner's manual step by step, you can assemble it within 30 minutes. The package content includes a patio heater, manual, wheel, hose set, black cover.

5.[After-sales service]
If you have a problem with product quality, we promise to provide you 1-year warranty with parts repair or replacement services. Please feel free to contact us.
Box Dimension:
18.31*18.31*35.24"
40.8 lbs
Tips:
1. Please check the safety instructions on the product manual before use
2. When you use the patio heater, please keep away combustible and flammable materials such as wood and paper.
3. This patio heater is for outdoor use only! Please do not put it under a tent or inside a garage! Because it will produce carbon dioxide, it requires adequate air circulation and ventilation when using the product.
4. Remove the protective film from the reflector and cylinder house before using.
5. Please make sure the regulator is fastened to the cylinder valve securely when using it!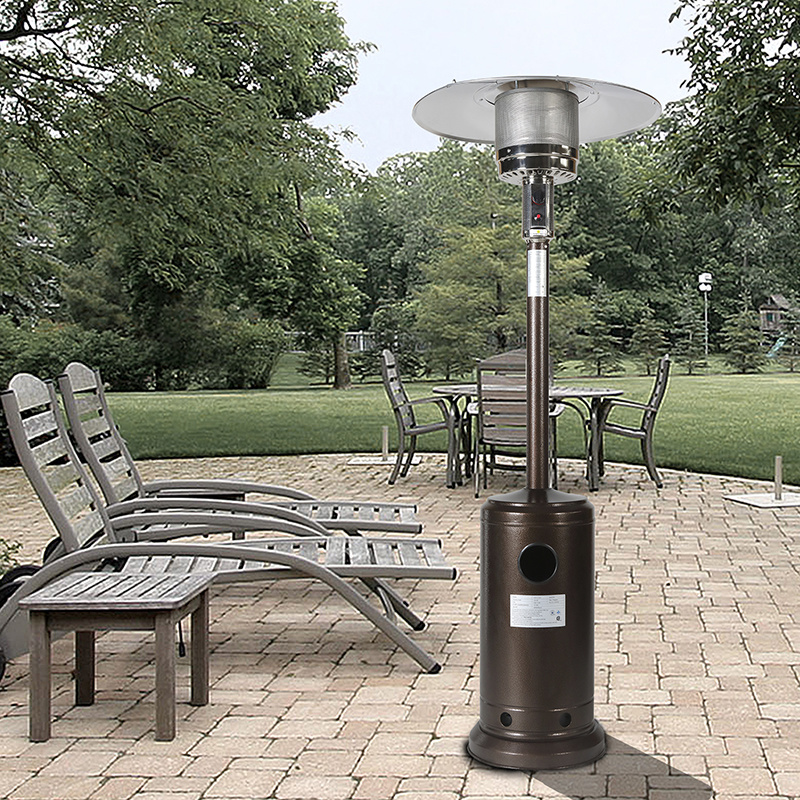 Warranty
6 month