This wonderful inflatable pirate will bring you a lively holiday atmosphere!The size of 8ft inflatable pirate can be used both indoor and outdoor occasions to attract neighbors and guests. What's more, the eye-catching pirate image diffuses impressive festival atmosphere to surroundings. Plus, bright LED Lights makes the Halloween night much more realistic.
Features:
Halloween Inflatable Pirate: Vivid pirate image is designed to show scary effects and brings much entertainment for celebrating Halloween. Moreover, it can be combined with other inflatable Halloween decorations to leave impressive festival atmosphere for people around.
Attractive Built-in LED Lights: Equipped with built-in LED lights, the inflatable decoration is a dazzling existence at nighttime and attracts children's attention at first sight. It will light up your courtyard and make your family, friends and neighbors indulge in a wonderful Halloween night.
Quick Air Blow and Deflation: The powerful air blower makes it easy to quickly inflate the Halloween decoration within several minutes. Measuring 8 ft in full height, it is a perfect collocation for decorating the outside. Moreover, the zippered design not only prevents air leakage, but also ensures fast deflate.
Two Ways to Ensure Stability: We will provide 6 stakes, 6 ring-pulls and 2 ropes to help you fix the pirate on the ground, so it is not easy to blow away in poor weather. Moreover, additional built-in sandbag enhances its overall stability when used outdoors.
Exquisite Craftsmanship: Crafted of waterproof polyester fabric, the inflatable pirate is free of odor and has fairly excellent durability. You can display the pirate for the entire Halloween holiday. Besides, the reinforced stitching ensures long service time of the inflatable decoration.
Product Specifications:
Color: Black, white
Material: Polyester fabric
Overall dimension: 3 x 2.3 x 8 ft(L x W x H)
Net weight: 2.8 lbs
Package includes:
1 x Halloween pirate
6 x Stakes
6 x Ring-pull
2 x Rope
1 x Adapter
Dimensions: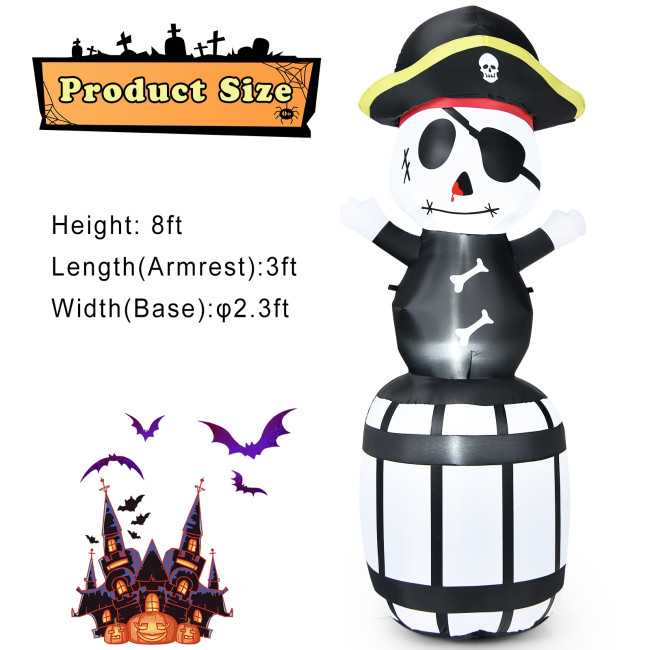 Tips: Necessary accessories include stakes, ring-pulls and ropes greatly improve its stability without worries about flying away by the wind. And Smooth zipper is convenient to deflate the inflatables.