Deal with the heavy wet snow? Introduce the PowerSmart 24-inch two-stage snow blower BS26.
This self-propelled gas snow blower eats snow like butter.
Blower up to 40 ft throwing distance, can clear 6 inch to 10 inch of snow and 10 car driveway. And versatile drive system allows forward and backward
B&S Gas powered engine with electric starter;

LED light;

131°F Heated Grips;

Professional snow tires.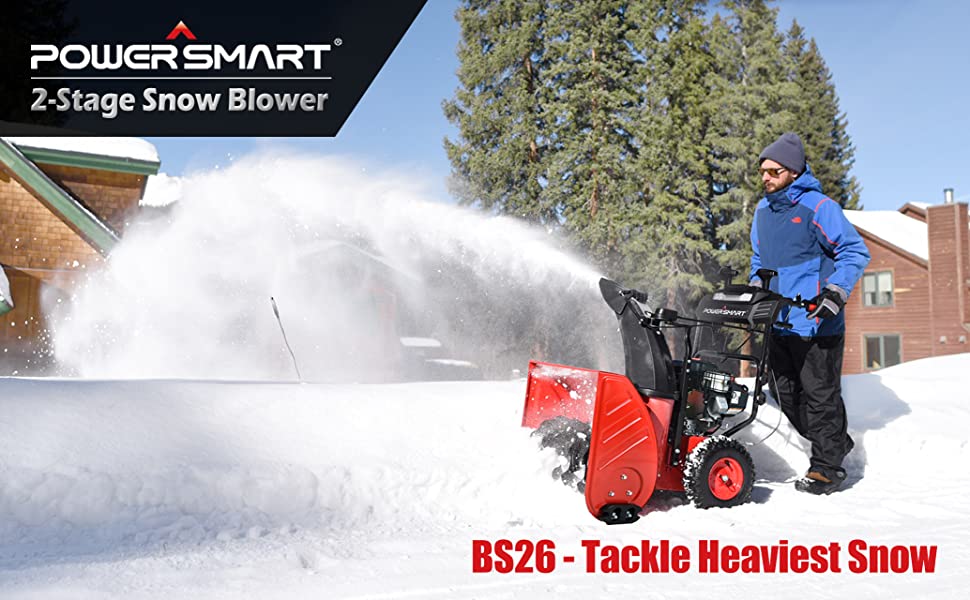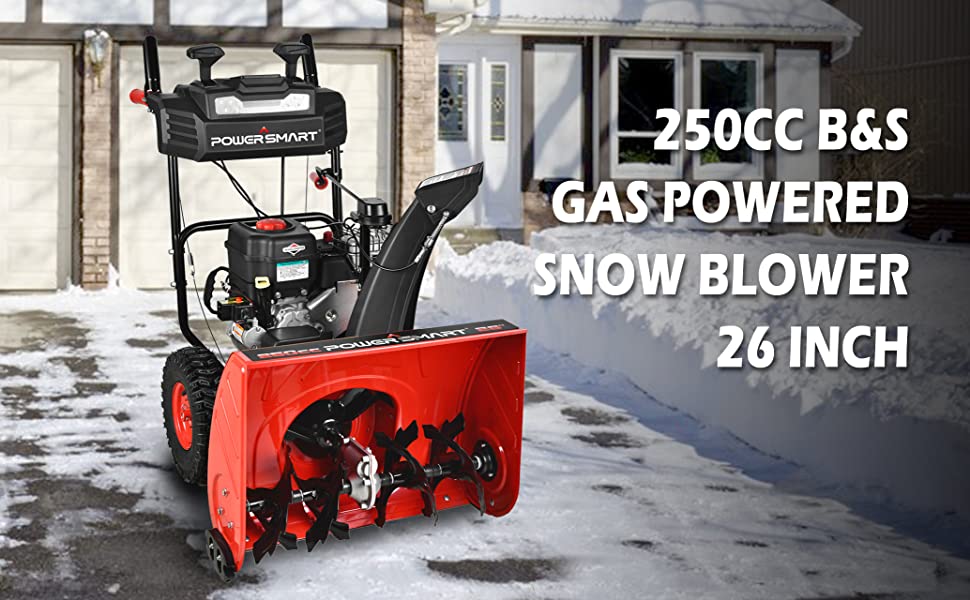 PowerSmart BS26, 2-stage snow blower features a Briggs & Stratton 250cc gasoline engine with electric start for easy starting even on the coldest winter days. The versatile control panel, heated grips and 180 chute rotation makes your job simple. Powerful auger cuts through tough snow and diverts it away from the chute to prevent clogging, making it a perfect choice for heavy snowfall.
Briggs & Stratton 250cc powerful gas engine

Commercial-grade auger

Ideal for clearing snow off large sized driveways and walkways
Product Dimensions:
Assembled Length (in.): 31.10
Assembled Width (in.): 24.60
Assembled Height (in.): 23.80
Weight (lbs): 147.30
Warranty: 6 months
Electric Start Snow Blower

250CC gasoline engine powered by Briggs & Stratton, equipped with corded electric start, connect extension cord, easily push button to start even in -20°F coldest winter.

180° Chute Control

Allowing you to throw snow to where you want it.

Max throwing distance: 40ft

Anti-Clogging Auger System

2 stage snow blower with strong all-steel auger cuts through tough snow and diverts it away from the chute to prevent clogging and keeps snow blowing stay the course.

Heated Grips

Heated grips deliver constant 131°F heat, warm up your hand, protect your hands from freeze.

Self Propelled Snow Blower

6 forward and 2 reverse speeds self propelled snow blower control enhanced driving convenience. LED safety light increase visibility for safety in dark.

All-terrain Snow Tires

Upgraded snow tires to all terrain version. 13 in. inflatable tires deep snow tread bites into slippery terrain.