It has a simple, clean appearance that will enhance any kitchen setup without taking away from the existing decor. Matte black looks fantastic paired with white or marble countertops. It has more of a matte finish than traditional black stainless steel so it is a little warmer and homier than shinier metals.
LED Kitchen faucets change colors with the water temperature. Blue will indicate colder temperatures of 0-30℃ with green being more moderate temperatures of 30-40℃. You'll instinctively know the water is hot once it reaches a red color and at very hot temperatures (50-100℃) the red color will be flashing. You won't use any extra power, but you'll have more peace of mind and control over your water temperature with the guiding LED lights. Whether you're looking for the latest feature or for a luxury faucet on a budget, this is a beautiful design.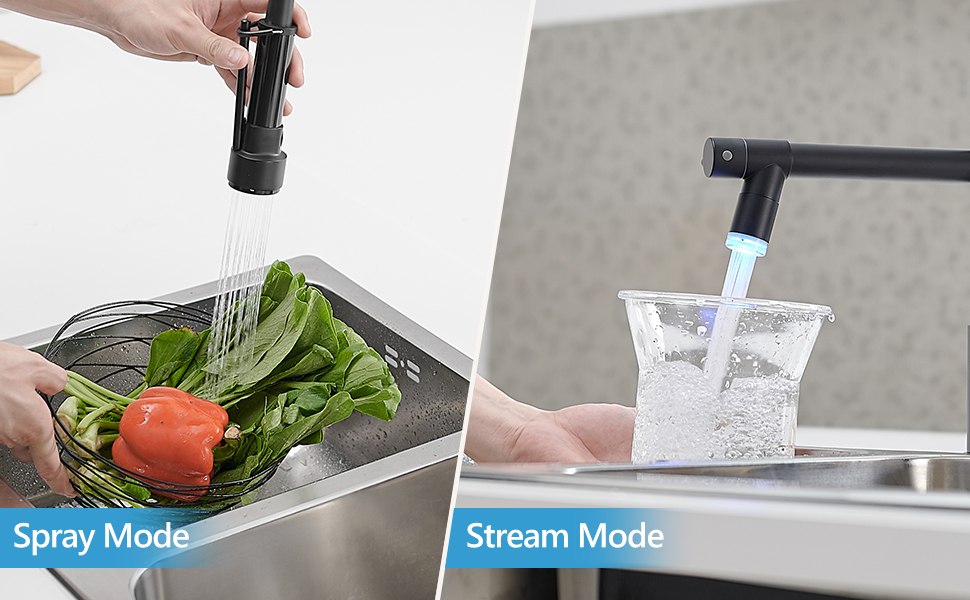 Features:
The kitchen sink faucet is suitable for both single bowl and double bowl faucets for kitchen sink.
Single Lever Handle Design Integrate to Control Water Temperature and Flow Volume Easily.
This pull-down kitchen faucet with 360 Degree Revolve Sprayer and Spout can turn on at the same time, it will satisfy your need furthest!
Matte finish resists fingerprints and water spots for a cleaner kitchen. Less time cleaning, more time having fun with your family.
It included all the necessary hardware and washers to complete the installation in under 30 minutes by yourself instead of a plumber. If it is 3 holes in your sink, you can buy an escutcheon for extra to make the faucet beautiful.