Features:
【Modern Design】Modern design style, with marble textured tempered glass covering the surface and golden bright handle, exudes a simple and luxurious atmosphere as a whole.Tempered glass is treated with safety bevels and rounded corners, which is safe and beautiful. The stool is wrapped with comfortable sponge pad and White PU leather.
【Spacious Storage Space】The vanity table with 2 drawers.There are flannel pads in the drawers,The drawer inner size is 11.75" x 11" x 2.5", which can store cosmetics,jewelry,notebooks, magazines, TV remotes, charging cables, earphones, or other household items. And the table top size is 31.5" x 13.8"
【Easy to clean】 The tempered glass on the surface is treated with safety bevels and rounded corners, and the smooth surface is easy to clean, so you can keep the vanity set looking its best for years to come
【

Sturdy Build

】Stable frame design, made of high-strength MDF material and with adjustable foot nails, can withstand more than 100 pounds. Combines durability with a modern look.
【Easy Assemble 】This prdduct is almost completely assembled that girls can easily do it alone.There are no extra tools are needed.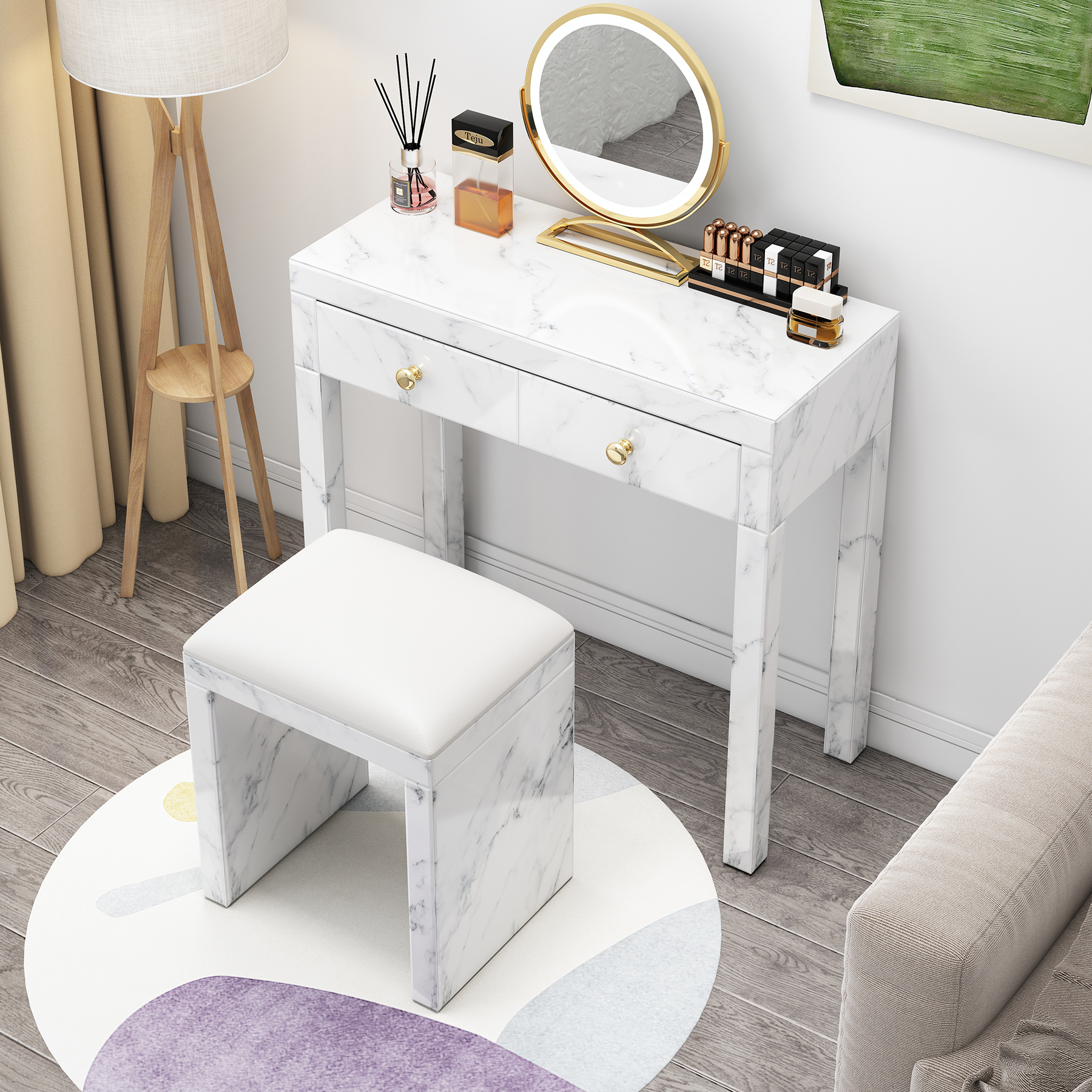 Product Dimensions:
Assembled Length (in.): 31.50
Assembled Width (in.): 13.80
Assembled Height (in.): 29.90
Weight (lbs): 45.20

Specification:
Table Size: 31.5"L X 13.8"W X 29.9"H
Table Net Weight: 45.2 lbs
Weight Capacity: 100 lbs
Package information: 37"L X 19.3"W X 16.1"H 56.2 lbs
Stool Size: 16.1"L X 13"W X 18.9"H
Stool Net Weight: 29.8 lbs
Weight Capacity: 220 lbs
Package information: 23.6"L X 15.8"W X 17.9"H 36.3 lbs
Warranty: 6 months
About packaging quality
We are mainly engaged in mirror glass furniture. Although the products are fragile, we are very experienced in the packaging of such products and are very confident that the products can be safely transported to customers. We also promise that we can exchange goods free of charge due to packaging damage.