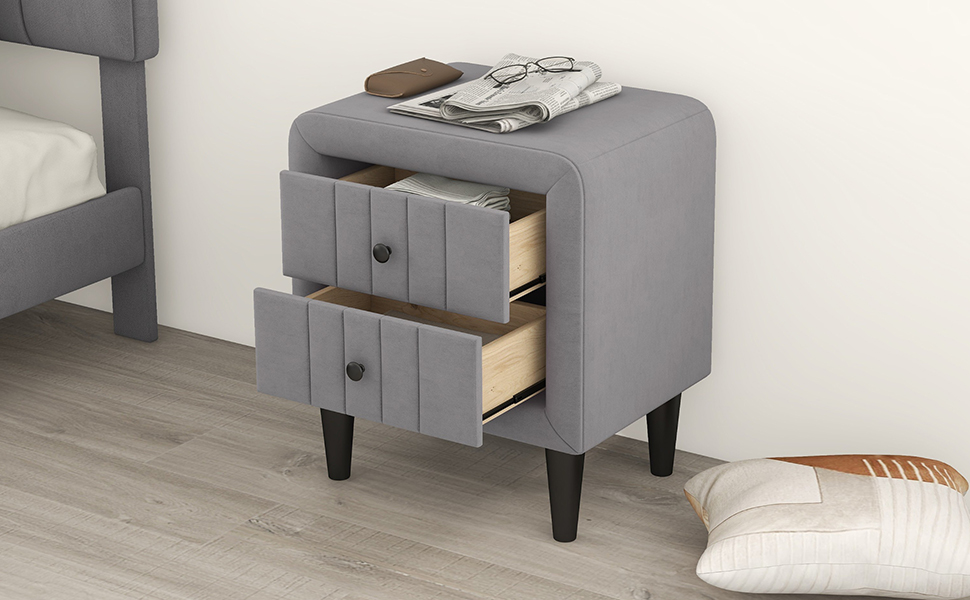 Upholstered Wooden Nightstand with 2 Drawers,Fully Assembled Except Legs and Handles,Velvet Bedside Table-Gray
This nightstand fits in many locations throughout your home and also can be used as an end table in living room, as a toy storage in nursery, or placed inside the closet to create extra storage.It offers an excellent arrangement for your room to keep all things organized and free of clutter.
【Sturdy Construction】This bedside table is constructed of wood and velvet.This nightstand is very sturdy and reliable. It can be used for a long time.
【Almost Fully Installed】Except for the handle and legs, the rest has already been installed. You can install this nightstand in a fraction of the time.
【With Two Drawers】This 2-drawer nightstands for bedrooms can provide you with enough space to store items.
【Stylish Design】This modern and contemporary upholstered nightstand with drawers is compatible well with any furniture. Can also be a end table to match with you sofa, easy to diverse home decoration and most tone style.
【Dimensions】 Overall Product Dimension:20.5" x 16.2" x 22.2"(L x W x H).This product comes in 1 packages. If you have any questions, please don't hesitate to contact one of our friendly customer service representatives.
Weight & Dimensions

Overall Product Dimension