Which Outdoor Umbrella is the Best for You to Enjoy Your Following Sun-Safe Summer
Apr 27,2023 | CASAINC
With summer just around the corner, outdoor umbrellas are essential to any outdoor living space, as they provide much-needed shade from the blistering sun and offer a nice touch of color to any outdoor area. Ready for summer to add that finishing touch to your outdoor haven?
Now, here are the four best outdoor umbrellas to refresh your outdoor space.
1. The Cantilever Umbrella without Base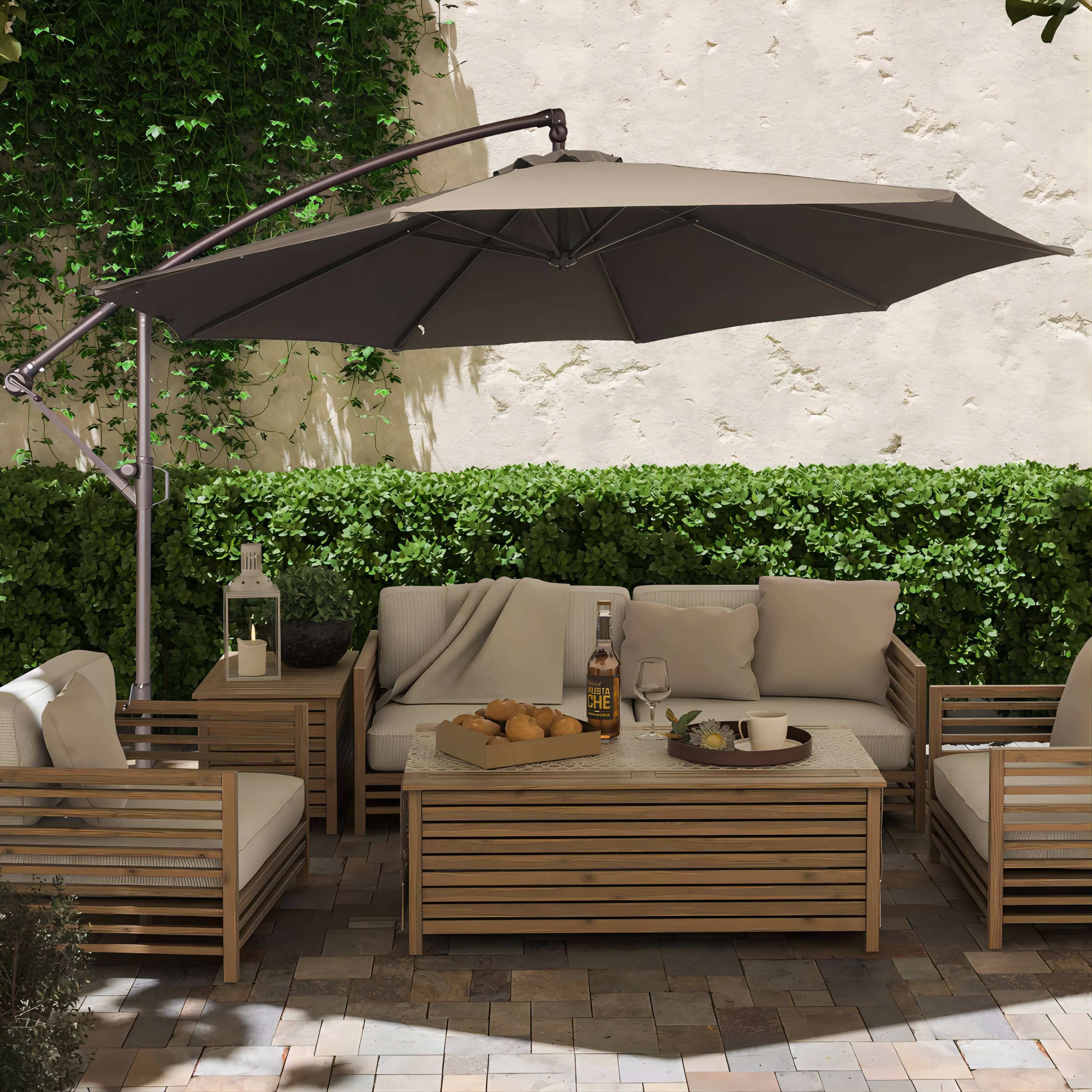 If you love hanging out on your outdoor picnic, invest in this durable cantilever-style umbrella for plenty of shade. Polyester umbrella fabric through the American Standard Level 4 certification, offers UV protection and resists the elements, including fading and water.
The umbrella pole is adjusted and opened with a two-way stop-slip crank design, easy to open and close the umbrella, while preventing the umbrella rope lose and umbrella surface from shaking. This 10FT*10FT umbrella comes in four colors, including burgundy, navy blue, orange and tan.
2. The Cantilever Patio Umbrella with Base

The patio umbrella is evolved from function (protecting you from harsh rays) to fashion (as important to nailing your look as other outdoor furniture). This 11 FT aluminum curved offset umbrella with powder-coat frame finish, is simple but fashionable design, providing a perfect base.
This affordable patio umbrella stretches 11 Feet for ample shade with a polyester canopy that resists fading. An air vent in the umbrella design adds support when the breeze picks up and a crank handle to open the umbrella is user-friendly.
3. The Solar LED Cantilever Umbrella with Crank and Base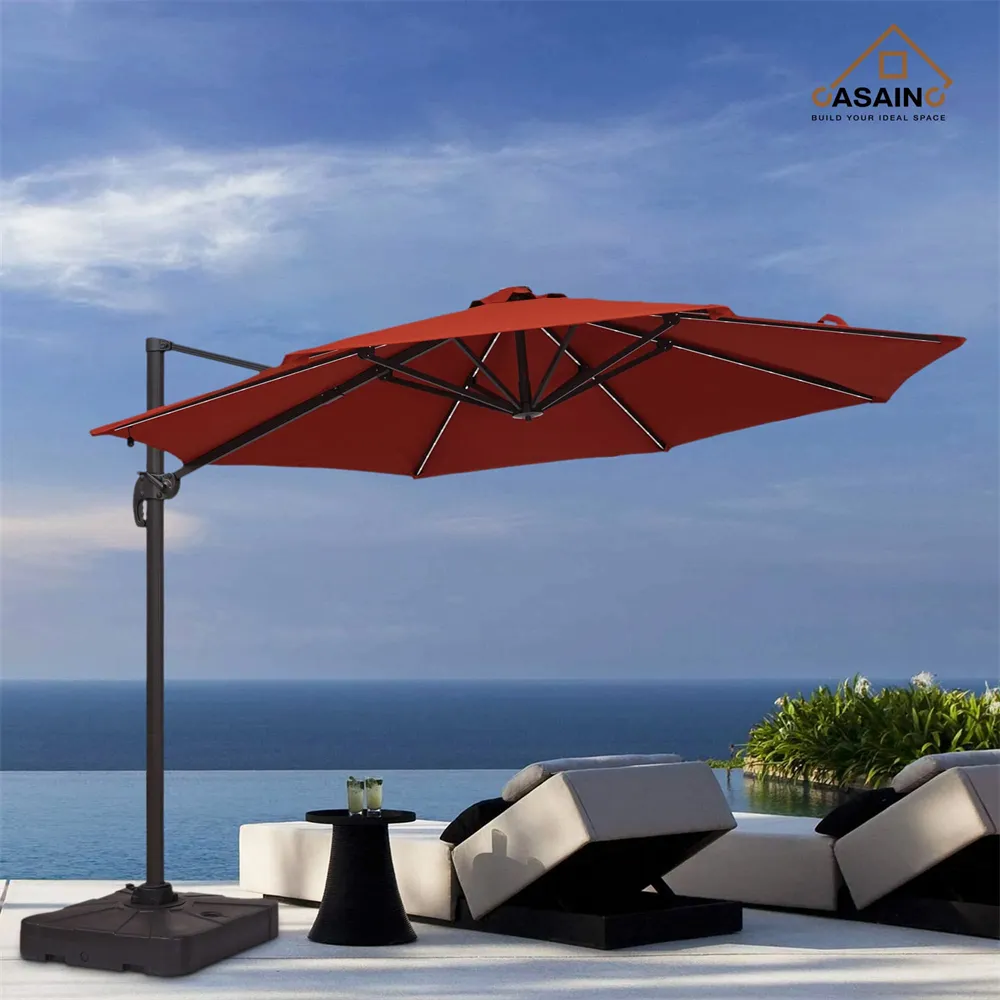 For those long summer nights, this 11FT cantilever umbrella stands out for its solar LED lights, maintaining perfect lighting all day. It features a crank handle for effortlessly opening and closing and a flexible arm tilt that can be adjusted to the canopy to the moving sun.
This sturdy umbrella has a canopy made of heavy-duty anti-UV 270 gsm Yarn-dyed fabric with UV protection and resistance to fading, and it is supported by an aluminum pole.
4. The Patio Market Umbrella with Base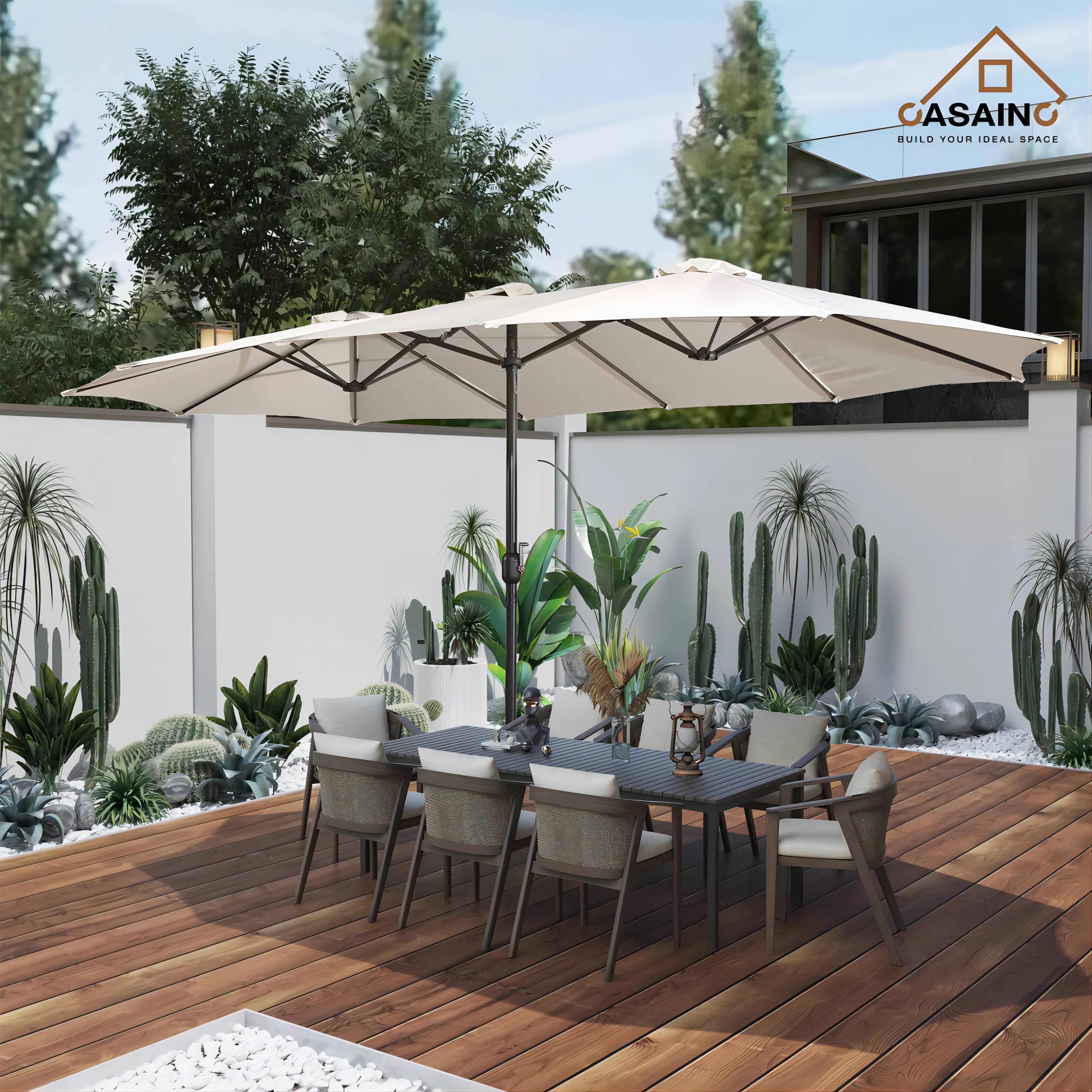 The traditional market umbrella, is also known as a center-pole umbrella due to its centrally located pole. If you have a bigger patio set, or just want to shade a larger area, this 15FT patio market umbrella will be a good choice.
This umbrella is made of a thick iron pole and high-quality polyester fiber, which is waterproof, breathable, long-lasting, fade-resistant and UV protected, perfect for outdoor use.
Above is our help to find the best outdoor umbrellas so that you can save time searching. Sun is wonderful, in moderation. Adding a patio umbrella to your outdoor living space will enhance your enjoyment without exposing you to too much direct sunlight. With the right gear, you can protect yourself from getting too hot so you can stay there longer. No matter which umbrella you choose, we provide you with quality assurance. All that's left to do is relax and enjoy the outdoors!
Comment