Different from normal inflatable decorations, our ghost has a built-in flame light that glows colorful light at night like real flames.What's more, the inflatable ghost is equipped with a blower. Only you need to do is fix the ghost according to the instructions and plug in the power, then the inflation will be finished quickly and effortlessly. After Halloween, the storage of the ghost is also very convenient.
Features:
Colorful Light: Different from normal Halloween inflatable decorations with only one kind of light, our inflatable ghost has a flame light that will emit colorful lights at night and looks like real flames, which will definitely make your Halloween garden stand out.

Great Stability: In order to make the Halloween inflatable ghost stay in place, we provide you with adequate ground stakes, ropes and hooks. In addition, the fixing process is also very simple and the fixed ghost is fairly stable outside.

Wide Application: The 12 Ft Halloween inflatable ghost is suitable for diverse occasions, such as garden, mall and playground. Also, equipped with 6 Ft power cord, it is effortlessly for you to plug the inflatable ghost into the power supply.

Convenient Installation and Quick Inflation: With the detailed manual, the whole installation will not take you much time and energy. Besides, there is a powerful blower in the package which will finish inflating the Halloween in a relatively short time.

Wonderful Halloween Decoration: Both delicate patterns and cool lights make the inflatable ghost become a perfect decoration for your garden on Halloween. The realistic appearance will greatly increase the sense of scary and attract the attention of passers-by.

Product Specifications:
Color: As the picture shows
Material: Waterproof polyester fabric
Net weight: 4.5 lbs
Product height: 12 Ft / 3.6 m
Exposed length of wire: 75" /1.9 m
Power: DC 12 V, 0.8 A
Transformer input: 100-240 V, 50/ 60 HZ, 1250 MA
Package includes:
1 x Inflatable ghost
2 x Grounding ropes
4 x Ground stakes
4 x Hooks
1 x Power adaptor
1 x User guide
Dimensions: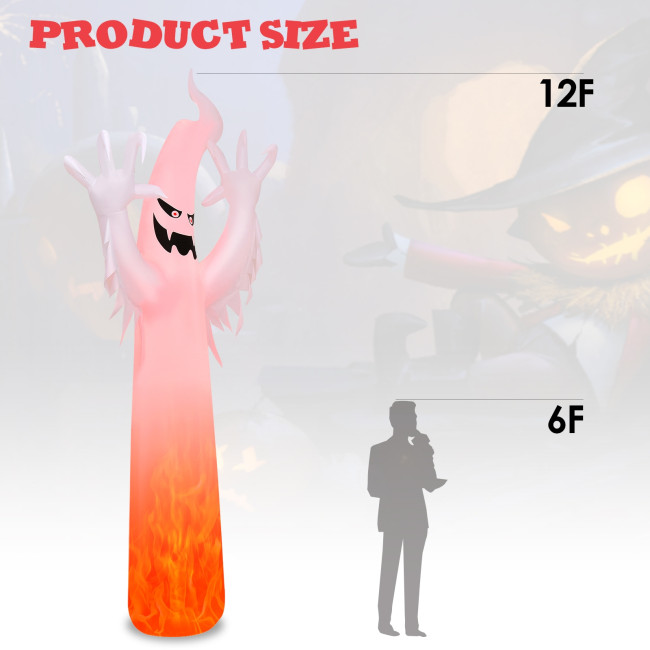 Tips: The overall surface is waterproof which is convenient for cleaning and the folding size is very compact.